Deathloop, stylized as "DEATHLOOP", is a first-person action game developed by Arkane Studios and published by Bethesda Softworks. The game released on September 14, 2021 for the PlayStation 5 and Microsoft Windows.
Deathloop tells the story of two assassins, Colt and Julianna, who battle in an eternal cycle on the island of Blackreef. It was formally announced during a press conference at E3 2019. Additional information was revealed during the Sony press event that took place on June 12, 2020.
About
[
]
Deathloop transports you to the mysterious island of Blackreef, where an eternal struggle between two extraordinary assassins will determine the island's future. As Colt, you must find a way to put an end to the timeloop trapping the island in an endless cycle, all while being hunted by the island's inhabitants. Using your powerful weapons and abilities, you'll need to take out 8 key targets across the stunning, yet chaotic, island before the day resets in order break the loop once and for all. But lurking in the shadows is rival assassin Julianna whose sole mission is to take Colt out and keep the loop going. Learn from each cycle, try new paths and approaches, and break the loop.
There are two modes in Deathloop: "Break the Loop" (Colt's journey) and "Protect the Loop" (Julianna's Journey). "Protect the Loop" must be unlocked first by playing "Break the Loop".
Developers
[
]
Death Loop was created by the development team of Arkane Lyon:
Lead Environment Artist ... Philippe Garibaldi
Level Art Director ... Damien Laurent
Lead Level Artist ... Geoffroy Espinasse
Lead VFX Artist ... Thibaud Guichard [2]
Game Director ... Dinga Bakabaa
Lead Game Systems Designer ... Gauthier Roussel
Game Systems Designers ... Jerome Braune, David McClure
Campaign Designer ... Dana Nightingale
Lead Level Designer ... Yoann Saquet [3]

You can join "Arkane" on their Discord channel!
Development
[
]
Release
[
]
Pre-Order Bonuses
[
]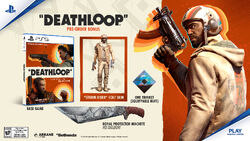 Pre-ordering the game gives the following bonuses:
Deluxe Edition
[
]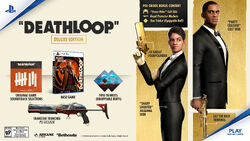 All pre-order bonuses
Party Crasher skin for Colt
Sharp Shooter skin for Julianna
Two Trinkets
Transtar Trencher (PS5 only)
.44 Karat Fourpounder
Eat the Rich Tribunal
Selection of original soundtracks of the game
Soundtrack
[
]
Déjà Vu is the title of the gameplay trailer 3 soundtrack released by Bethesda Softworks on February 26, 2021. Artists: Sencit (feat. FJØRA). Déjà Vu was also covered by the artists Madison Beer, Steve Aoki and Future. [4][5]
Pitch Black was the featured song of the official launch trailer: Countdown to Freedom. "Pitch Black" was created by Sencit (Feat. Lady Blackbird).
Down the Rabbit Hole was the song title of the official story trailer that released September 9, 2021. The song was created by Sencit, Samantha Howard and Haqq.
Inside Looking Out is a song title by the Canadian singer Ndidi O (Ndidi Onukwulu) that can be heard in the Playstation 5 presentation trailer.
Track list
[
]
Source: Deathloop Soundtrack on Steam
Blackreef
Updaam
The Revenant
Karl's Bay
Sun Goes Down
Aleksis Dorsey
You Have No Class
Fristad Rock
Eternal Deathwish
Frank Spicer
The Complex
Déjà-Vu
Artists: Tom Salta & Ross Tregenza, FJØRA Music and Sencit.
Reception
[
]
Concept Art
[
]
Video
[
]
References
[
]
External links
[
]